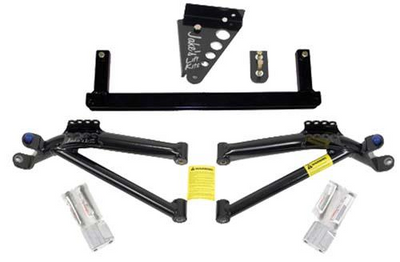 JAKE'S 5" A-Arm Lift Kit for Yamaha G8/G11/G14 Gas or Electric
SKU: 6252
by Nivel
5" A-Arm Lift Kit for Yamaha G8/G11/G14 Gas or Electric:
Jake's lifts are strong, safe and easy to install.
Squares up the cart for added stability and lengthens wheel base.
No cutting or welding required.
22" tires recommended/10" or larger offset wheels required.
Made in USA
MSRP $540
Seat kits, lift kits are not universal and specific to make, model and year.
{"id":7579328315580,"title":"JAKE'S 5\" A-Arm Lift Kit for Yamaha G8\/G11\/G14 Gas or Electric","handle":"6252-jakes-lift-kit-yamaha-g8-11-1495-96-gas-elec","description":"\u003cdiv style=\"margin: 0px; padding: 0px; box-sizing: border-box; color: #000000; font-family: 'Open Sans', sans-serif; font-size: 13px; font-style: normal; font-variant-ligatures: normal; font-variant-caps: normal; font-weight: 400; letter-spacing: normal; orphans: 2; text-align: start; text-indent: 0px; text-transform: none; white-space: normal; widows: 2; word-spacing: 0px; -webkit-text-stroke-width: 0px; background-color: #ffffff; text-decoration-style: initial; text-decoration-color: initial;\"\u003e\n\u003cdiv\u003e\n\u003cp\u003e\u003cstrong\u003e5\" A-Arm Lift Kit for Yamaha G8\/G11\/G14 Gas or Electric:\u003c\/strong\u003e\u003c\/p\u003e\n\u003c\/div\u003e\n\u003cdiv style=\"margin: 0px; padding: 0px; box-sizing: border-box; color: #000000; font-family: 'Open Sans', sans-serif; font-size: 13px; font-style: normal; font-variant-ligatures: normal; font-variant-caps: normal; font-weight: 400; letter-spacing: normal; orphans: 2; text-align: start; text-indent: 0px; text-transform: none; white-space: normal; widows: 2; word-spacing: 0px; -webkit-text-stroke-width: 0px; background-color: #ffffff; text-decoration-style: initial; text-decoration-color: initial;\"\u003e\n\u003cul\u003e\n\u003cli\u003eJake's lifts are strong, safe and easy to install.\u003c\/li\u003e\n\u003cli\u003eSquares up the cart for added stability and lengthens wheel base.\u003c\/li\u003e\n\u003cli\u003eNo cutting or welding required.\u003c\/li\u003e\n\u003cli\u003e22\" tires recommended\/10\" or larger offset wheels required.\u003c\/li\u003e\n\u003cli\u003eMade in USA\u003c\/li\u003e\n\u003c\/ul\u003e\n\u003c\/div\u003e\n\u003cdiv style=\"margin: 0px; padding: 0px; box-sizing: border-box; color: #000000; font-family: 'Open Sans', sans-serif; font-size: 13px; font-style: normal; font-variant-ligatures: normal; font-variant-caps: normal; font-weight: 400; letter-spacing: normal; orphans: 2; text-align: start; text-indent: 0px; text-transform: none; white-space: normal; widows: 2; word-spacing: 0px; -webkit-text-stroke-width: 0px; background-color: #ffffff; text-decoration-style: initial; text-decoration-color: initial;\"\u003e\u003cbr\u003e\u003c\/div\u003e\n\u003c\/div\u003e\n\u003cdiv style=\"margin: 0px; padding: 0px; box-sizing: border-box; color: #000000; font-family: 'Open Sans', sans-serif; font-size: 13px; font-style: normal; font-variant-ligatures: normal; font-variant-caps: normal; font-weight: 400; letter-spacing: normal; orphans: 2; text-align: start; text-indent: 0px; text-transform: none; white-space: normal; widows: 2; word-spacing: 0px; -webkit-text-stroke-width: 0px; background-color: #ffffff; text-decoration-style: initial; text-decoration-color: initial;\"\u003eMSRP $540\u003c\/div\u003e\n\u003cdiv style=\"margin: 0px; padding: 0px; box-sizing: border-box; color: #000000; font-family: 'Open Sans', sans-serif; font-size: 13px; font-style: normal; font-variant-ligatures: normal; font-variant-caps: normal; font-weight: 400; letter-spacing: normal; orphans: 2; text-align: start; text-indent: 0px; text-transform: none; white-space: normal; widows: 2; word-spacing: 0px; -webkit-text-stroke-width: 0px; background-color: #ffffff; text-decoration-style: initial; text-decoration-color: initial;\"\u003e\u003c\/div\u003e\n\u003cdiv style=\"margin: 0px; padding: 0px; box-sizing: border-box; color: #000000; font-family: 'Open Sans', sans-serif; font-size: 13px; font-style: normal; font-variant-ligatures: normal; font-variant-caps: normal; font-weight: 400; letter-spacing: normal; orphans: 2; text-align: start; text-indent: 0px; text-transform: none; white-space: normal; widows: 2; word-spacing: 0px; -webkit-text-stroke-width: 0px; background-color: #ffffff; text-decoration-style: initial; text-decoration-color: initial;\"\u003e\u003c\/div\u003e\n\u003cdiv style=\"margin: 0px; padding: 0px; box-sizing: border-box; color: #000000; font-family: 'Open Sans', sans-serif; font-size: 13px; font-style: normal; font-variant-ligatures: normal; font-variant-caps: normal; font-weight: 400; letter-spacing: normal; orphans: 2; text-align: start; text-indent: 0px; text-transform: none; white-space: normal; widows: 2; word-spacing: 0px; -webkit-text-stroke-width: 0px; background-color: #ffffff; text-decoration-style: initial; text-decoration-color: initial;\"\u003e\n\u003cp\u003e\u003cem\u003e\u003cstrong\u003eSeat kits, lift kits are not universal and specific to make, model and year.\u003c\/strong\u003e\u003c\/em\u003e\u003c\/p\u003e\n\u003c\/div\u003e","published_at":"2022-07-21T16:14:14-04:00","created_at":"2022-07-21T16:14:14-04:00","vendor":"Nivel","type":"Golf Cart Accessories","tags":["jakes","lift kit","Shop_Yamaha Parts","Shopify Sync","Type_Lift Kits","yamaha"],"price":36900,"price_min":36900,"price_max":36900,"available":true,"price_varies":false,"compare_at_price":55000,"compare_at_price_min":55000,"compare_at_price_max":55000,"compare_at_price_varies":false,"variants":[{"id":41916726542524,"title":"Default Title","option1":"Default Title","option2":null,"option3":null,"sku":"6252","requires_shipping":true,"taxable":true,"featured_image":null,"available":true,"name":"JAKE'S 5\" A-Arm Lift Kit for Yamaha G8\/G11\/G14 Gas or Electric","public_title":null,"options":["Default Title"],"price":36900,"weight":11340,"compare_at_price":55000,"inventory_management":"shopify","barcode":"","requires_selling_plan":false,"selling_plan_allocations":[]}],"images":["\/\/customcarts.ca\/cdn\/shop\/products\/6252..png?v=1658760254"],"featured_image":"\/\/customcarts.ca\/cdn\/shop\/products\/6252..png?v=1658760254","options":["Title"],"media":[{"alt":null,"id":25769196159164,"position":1,"preview_image":{"aspect_ratio":1.529,"height":327,"width":500,"src":"\/\/customcarts.ca\/cdn\/shop\/products\/6252..png?v=1658760254"},"aspect_ratio":1.529,"height":327,"media_type":"image","src":"\/\/customcarts.ca\/cdn\/shop\/products\/6252..png?v=1658760254","width":500}],"requires_selling_plan":false,"selling_plan_groups":[],"content":"\u003cdiv style=\"margin: 0px; padding: 0px; box-sizing: border-box; color: #000000; font-family: 'Open Sans', sans-serif; font-size: 13px; font-style: normal; font-variant-ligatures: normal; font-variant-caps: normal; font-weight: 400; letter-spacing: normal; orphans: 2; text-align: start; text-indent: 0px; text-transform: none; white-space: normal; widows: 2; word-spacing: 0px; -webkit-text-stroke-width: 0px; background-color: #ffffff; text-decoration-style: initial; text-decoration-color: initial;\"\u003e\n\u003cdiv\u003e\n\u003cp\u003e\u003cstrong\u003e5\" A-Arm Lift Kit for Yamaha G8\/G11\/G14 Gas or Electric:\u003c\/strong\u003e\u003c\/p\u003e\n\u003c\/div\u003e\n\u003cdiv style=\"margin: 0px; padding: 0px; box-sizing: border-box; color: #000000; font-family: 'Open Sans', sans-serif; font-size: 13px; font-style: normal; font-variant-ligatures: normal; font-variant-caps: normal; font-weight: 400; letter-spacing: normal; orphans: 2; text-align: start; text-indent: 0px; text-transform: none; white-space: normal; widows: 2; word-spacing: 0px; -webkit-text-stroke-width: 0px; background-color: #ffffff; text-decoration-style: initial; text-decoration-color: initial;\"\u003e\n\u003cul\u003e\n\u003cli\u003eJake's lifts are strong, safe and easy to install.\u003c\/li\u003e\n\u003cli\u003eSquares up the cart for added stability and lengthens wheel base.\u003c\/li\u003e\n\u003cli\u003eNo cutting or welding required.\u003c\/li\u003e\n\u003cli\u003e22\" tires recommended\/10\" or larger offset wheels required.\u003c\/li\u003e\n\u003cli\u003eMade in USA\u003c\/li\u003e\n\u003c\/ul\u003e\n\u003c\/div\u003e\n\u003cdiv style=\"margin: 0px; padding: 0px; box-sizing: border-box; color: #000000; font-family: 'Open Sans', sans-serif; font-size: 13px; font-style: normal; font-variant-ligatures: normal; font-variant-caps: normal; font-weight: 400; letter-spacing: normal; orphans: 2; text-align: start; text-indent: 0px; text-transform: none; white-space: normal; widows: 2; word-spacing: 0px; -webkit-text-stroke-width: 0px; background-color: #ffffff; text-decoration-style: initial; text-decoration-color: initial;\"\u003e\u003cbr\u003e\u003c\/div\u003e\n\u003c\/div\u003e\n\u003cdiv style=\"margin: 0px; padding: 0px; box-sizing: border-box; color: #000000; font-family: 'Open Sans', sans-serif; font-size: 13px; font-style: normal; font-variant-ligatures: normal; font-variant-caps: normal; font-weight: 400; letter-spacing: normal; orphans: 2; text-align: start; text-indent: 0px; text-transform: none; white-space: normal; widows: 2; word-spacing: 0px; -webkit-text-stroke-width: 0px; background-color: #ffffff; text-decoration-style: initial; text-decoration-color: initial;\"\u003eMSRP $540\u003c\/div\u003e\n\u003cdiv style=\"margin: 0px; padding: 0px; box-sizing: border-box; color: #000000; font-family: 'Open Sans', sans-serif; font-size: 13px; font-style: normal; font-variant-ligatures: normal; font-variant-caps: normal; font-weight: 400; letter-spacing: normal; orphans: 2; text-align: start; text-indent: 0px; text-transform: none; white-space: normal; widows: 2; word-spacing: 0px; -webkit-text-stroke-width: 0px; background-color: #ffffff; text-decoration-style: initial; text-decoration-color: initial;\"\u003e\u003c\/div\u003e\n\u003cdiv style=\"margin: 0px; padding: 0px; box-sizing: border-box; color: #000000; font-family: 'Open Sans', sans-serif; font-size: 13px; font-style: normal; font-variant-ligatures: normal; font-variant-caps: normal; font-weight: 400; letter-spacing: normal; orphans: 2; text-align: start; text-indent: 0px; text-transform: none; white-space: normal; widows: 2; word-spacing: 0px; -webkit-text-stroke-width: 0px; background-color: #ffffff; text-decoration-style: initial; text-decoration-color: initial;\"\u003e\u003c\/div\u003e\n\u003cdiv style=\"margin: 0px; padding: 0px; box-sizing: border-box; color: #000000; font-family: 'Open Sans', sans-serif; font-size: 13px; font-style: normal; font-variant-ligatures: normal; font-variant-caps: normal; font-weight: 400; letter-spacing: normal; orphans: 2; text-align: start; text-indent: 0px; text-transform: none; white-space: normal; widows: 2; word-spacing: 0px; -webkit-text-stroke-width: 0px; background-color: #ffffff; text-decoration-style: initial; text-decoration-color: initial;\"\u003e\n\u003cp\u003e\u003cem\u003e\u003cstrong\u003eSeat kits, lift kits are not universal and specific to make, model and year.\u003c\/strong\u003e\u003c\/em\u003e\u003c\/p\u003e\n\u003c\/div\u003e"}
{"id":41916726542524,"title":"Default Title","option1":"Default Title","option2":null,"option3":null,"sku":"6252","requires_shipping":true,"taxable":true,"featured_image":null,"available":true,"name":"JAKE'S 5\" A-Arm Lift Kit for Yamaha G8\/G11\/G14 Gas or Electric","public_title":null,"options":["Default Title"],"price":36900,"weight":11340,"compare_at_price":55000,"inventory_management":"shopify","barcode":"","requires_selling_plan":false,"selling_plan_allocations":[]}